National Council for State Authorization of Reciprocity Agreements (NC-SARA)
The State Authorization Reciprocity Agreements, commonly known as SARA, provides a voluntary, regional approach to state oversight of postsecondary distance education. When states join SARA, they agree to follow uniform processes for approving their eligible institutions' participation.
SARA's policies help protect students and provide benefits to both states and institutions carrying out distance education in multiple states. As of 2022, 49 states, the District of Columbia, Puerto Rico and the U.S. Virgin Islands are members of SARA. Over 2,300 colleges and universities participate in SARA.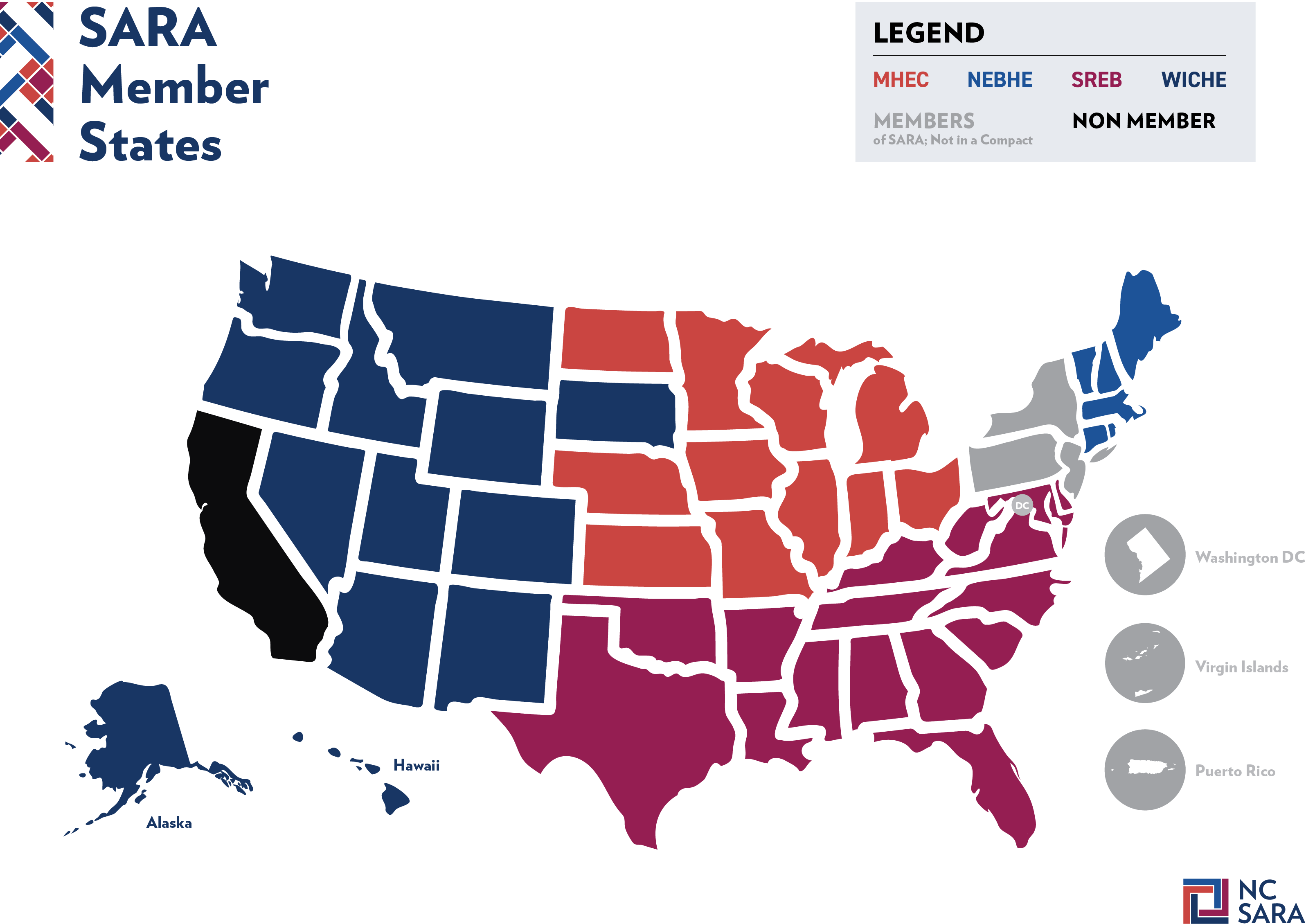 State Regulatory Compliance
for Out-of-State Activities of Postsecondary Institutions
Background
States have long had the authority to regulate institutions offering education within the state's boundaries, regardless of the modality (face-to-face, distance) being used. States' regulations vary greatly from state to state. Regulations may encompass activities that include online learning, practical experiences, faculty teaching from another state, marketing, advertising, and more. The state authorization process is a key component of consumer protection for learners in the state.
The State Authorization Guide
The State Authorization Guide (the Guide) is a collection of state laws, regulations, and requirements for institutions serving out-of-state students. The Guide outlines for each state, activities that require authorization, application processes, costs to comply, and more, as submitted by the agencies in each state, the District of Columbia, Puerto Rico and the U.S. Virgin Islands.
History of the SHEEO Surveys
The State Higher Education Executive Officers Association (SHEEO) was responsible for creating and managing what was called the "SHEEO State Surveys." Since 2011, this compilation of state authorization and compliance information has been a useful and freely available resource for institutions across the country. The State Authorization Guide replaced the SHEEO Surveys in 2018.
Contributions from WICHE Cooperative for Educational Technologies (WCET), State Authorization Network (SAN) WCET|SAN (2018-2019)
WCET|SAN in 2018 collaborated with NC-SARA to transfer data from the SHEEO surveys into the NC-SARA database to create the State Authorization Guide.
State Higher Education Agencies
and SARA State Portal Entities
State Higher Education Agencies
A directory of agencies responsible for implementing state postsecondary quality assurance laws in the 50 U.S. States, the District of Columbia, Puerto Rico and the U.S. Virgin Islands, as well as a compendium of state laws and regulations.
SARA State Portal Entities
For an educational institution to be considered to participate in the National Council-State Authority Reciprocity Agreement, they must first contact their state's portal entity.